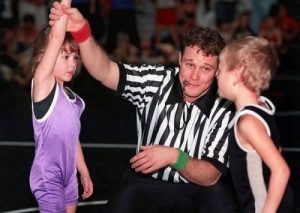 It had been a while since I had come to terms and wholeheartedly embraced having a daughter and not a son. While I knew that some things would definitely be different, there was no reason why other things couldn't be the same.  I always had high hopes of sitting with my child and being able to tell them all about baseball, football and sports in general.  I looked forward to taking the time to explain the importance of having a strong running game in order to set up a play action pass, or why the Hall of Fame is now a tainted mess.  I wanted to share with them the sports stories of my childhood like the 1984 World Series Kirk Gibson home run or the 2003 Aaron Boone walk-off home run.  I longed to describe the players that I looked up to as a boy and as a teen just like my father had done with me.  I couldn't wait to take my child to their first game and watch as they would throw up both hands and signal touchdown or yell and cheer in the bottom of the ninth inning of the World Series. You see my wife and I love all sports but football and baseball especially – they have always been a huge part of our lives. It's one of the many things that I love about her. I could assume that my wife loves sports because I love them, but that's not the case. She is hard core! So it's only reasonable that I'd want football, baseball and all sports to be something that brings us and our children closer as a family.
I try to make lemonade when life gives me lemons but it has always been a difficult thing for me.  When there is vodka present it seems to be an easier task. I tend to allow negativity to take over my thinking process, and I used to think that I would need a lot of vodka to make my lemonade taste better, not too sweet or not too bitter. But I was once again was proven wrong (it seems to be a theme lately, but don't tell my wife).  I have learned a few things about myself that have helped me become better at understanding that having a daughter is a very rewarding experience. Here's a glimpse into one of those experiences.  It was late summer of 2013 and my daughter had just had her first birthday, and that special time of the year was coming around.  Nooooo….I'm not talking about Christmas or Thanksgiving, I am talking about baseball playoffs and the start of football season.  There is nothing better than this combination of sport seasons.  It was now my turn to take my little girl and turn her into a yelling and screaming sports fanatic!  I could not wait!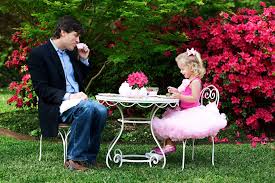 I had worried that instead of enjoying sports, I would be playing dolls and having tea parties. I was scared that my love of sports would be compromised because of my daughter's lack of interest. Granted, I am probably being very naive since my little baby is only 18-months old.  I am sure that the days of tea parties and dress up are very real and are quickly headed my way, and I'm totally cool with that.  I mean, I do look good in a dress, and not bad in make-up!  I am sure other dads can relate.
This past year was my first opportunity to have an entire season of football with my daughter and wife. From the start of the 2013 season, watching football with the both of them has been AWESOME!! Alana loves to watch football!  It doesn't matter what game it is or who is playing. This is good because I watch them all due to a borderline unhealthy addiction to fantasy football and access to online betting; but I digress.  My little girl has mastered the touchdown call – two hands straight up in the air – and can recognize a touchdown by mommy and daddy's reaction. She participates in celebratory "cheers" with her sippy cup. I promise she gets only water or juice.  My friends have all witnessed it and no one had called CPS on us.  She is always happy when the games come on and, unlike her father, never mad when they are over.  I may never introduce her to fantasy football though because even though I did win one of my leagues this year, my wife always beats me and I do not need my daughter to join in the slaughter.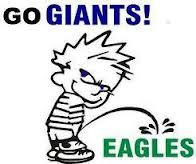 Of course, my wanting Alana involved in our enjoyment of sports comes with a price to pay.  Not so much during baseball season, seeing that my wife and I are both Yankees fans (although the post Steinbrenner era may prove to change things). However, football is a different beast altogether.  You see, I am a NY Giants fan and my wife is a Philadelphia Eagles fan.  So, needless to say, like many other families with similar sports related problems, we came to an issue about who my daughter would support with her jersey choice. I was determined to not let my wife get the upper hand so before my daughter even started showing interest in football I started to subtly outfit her in NYG gear.  This really pissed my wife off and ignited in her the sneaky woman she can be. My wife, unbeknownst to me, employed her friend from Philly to go out and buy an Eagles ensemble.  (I have never felt like money had been so badly wasted in my life.) And this is where the challenge began.  Knowing that there was competition in available team paraphernalia, we would wake up early on Sundays just to see who could dress Alana first.  Eventually, to avoid a full on war, we ended up making a compromise and agreed to dress my daughter in the jersey of the team who won the previous week.  For those of you who do not follow football, and a reminder (a sad one for me) for those who do, the Giants didn't win until week 7, so my poor daughter wore green… a lot. the Eagles jersey clashed with her beautiful blue eyes (even though her aunt would disagree) and made the Giants losing streak hurt more each week!!
Even though I bore these pains, Sunday had by far taken over as our most favorite day of the week. I don't know what I'm going to do once football season is over!!  (Well, maybe I'll start with getting rid of that Eagles jersey!) During previous football seasons, Sunday used to be the day that I would start getting angry around 3:00, as I started to realize that my bets weren't as strong as I hoped, my fantasy team losing by 50  and that I had to go back to work on Monday. Those thoughts still creep into my head and it makes my stomach turn a bit, but then I look over at my daughter…watching football, smiling and clapping, saying, "Hut! Hut! Hut!" or throwing her hands up gesturing touchdown and, all of those things that used to really get to me, don't nearly as much. These are some of the happiest times of my life and I wouldn't trade them for anything.  Now, the thought that hurts the most is the thought of leaving my little girl when I go to work on Monday morning (please see my previous blog " Paradox of Fatherhood").
In an attempt to solidify my thoughts on the importance of sports and a family dynamic, I actually did some homework and came across an interesting article called "Shared Activities – Especially Sports – are 'Game Changers for Father Daughter Relationships'." It discusses a study done at Baylor University in 2013. I have provided the link for your reading pleasure: Click Here  In this study it was determined that sports incorporated into the father-daughter relationship formed a stronger bond between the two.  This bond enhanced their relationship and made the relationship more fulfilling for both as they grew.  Even though there are studies done to show how incorporating sports into relationships may help, I do not advocate forcing children to do something that they do not want to do. I remember how much that sucked.  I also wonder if my daughter will ever be as interested in sports and become as awesome at football as Sammy Gordon, in case you have never heard or seen of Sammy please click on the link above to be amazed.
So if there is a moral to be taken away from anything that I have spewed at you, it's the fact that no matter what sex your child ends up being, share the things you love and I bet they will love them with you no matter what it is.  I was afraid at first that not only would i miss out on what I enjoyed, but that i would not be able to share it with my kid.   I think that making your children a part of whatever it is that makes you happy will bring you all closer.  It's worked so far for our family, I hope it works for yours too.
Side note: My daughter was watching and contributed to the NYG winning last year's Super Bowl. You're welcome Eli, you're welcome!  However, I also need to admit that she watched when he threw a record setting amount of interceptions this year…I'm blaming my wife and the Eagles jersey for that one.  I'm hoping that Alana just may help another Manning win a Super Bowl tonight! Until the next time..thanks again for reading!
My prediction Denver 24 – Seattle 21
I publish articles for Life of Dad every Sunday. Please come back and read again!!
Follow me on twitter @cjnuch0712 or just drop a line, I would love to hear from you.