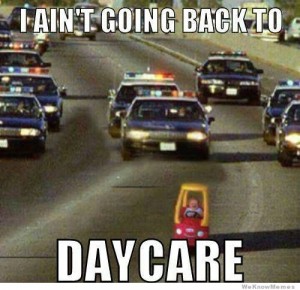 And I'm baaaaaaaaack.  Not like anyone noticed that I was gone, well I know some of you did and I do appreciate the continued encouragement to keep writing.   I have to admit, I was way over my head in trying to write once a week.  In trying to keep up that pace I found myself reaching for material and forcing the issue, which made me feel as though the quality of my writing suffered, which was quite clear to me just in the amount of views I was getting.  In addition to that, I felt like I wasn't writing for the joy but more for the promise I should have never made to write once a week.  I mean, when I was a SAHD it was much easier to write and to have the material to write about.
Since the last blog I wrote, things have been good and getting better, yet they have still been shrouded in uncertainty and a solid dose of anxiety.  As of the beginning of May, we lost our awesome in home babysitting help. I have started a new job and my wife has changed her work schedule so that she works two consecutive 12 hour shifts. In setting up our schedule like this, it means that we only have one option…to send our little mush – mush to daycare two days a week.  Argh!!!! DAYCARE!!!!!!!
This entry is not one to rip apart the daycare system or to piss and moan about the fact that I need daycare so that we can continue to run on the hamster wheel to pay our bills and provide for our kid.  Its purpose is for me to vent.  It is for me to create a history so I can look back and see how wrong I was, or  in the off chance, see that I was right to make these assumptions.   It is also here for my daughter to see how much we really tried to do the right things by her.
I have to tell yo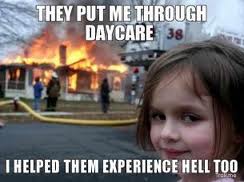 u, I have never been so overwhelmed with emotions as I am at this moment as I sit here and think about sending my daughter to daycare.  I have so many conflicting feelings. Those of fear, anxiety, and apprehensions,  while at the same time I have feelings of hope, thoughts of my daughter making friends, having new experiences and growing as a person.  My wife and I did a lot of soul searching and we felt that placing our daughter in daycare was something that we needed to try.  With life being what it is and the need for health insurance and a two income household, I guess we are lucky we only have to send her to daycare  two days a week instead of more.  There are other families who do not have the same luxury.  If it were up to me, I would have my wife quit her job and stay home. I can only hope that putting her in daycare doesn't make her hate us or make her think we have abandoned her.  She is too young for that to happen right?  That happens around the teenage years? Right?? Right??  I mean, if you do the math, it's not like we're making a shit ton more money if she works those days, and the freaking cost of daycare, a good one, is un-real.
We have been banging our head against the wall trying to find a way to keep our daughter home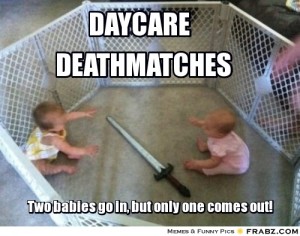 with one of us.  Since I have, by default, become the "breadwinner", and believe me I tried not to be, we have no choice but to send her for now.  So we picked a daycare that was aligned with our beliefs and our goals for both us and our daughter.  Regardless of all of that, I still feel like I am failing my daughter.  I truly don't know if she is ready, however what I do know is that I am not ready, not even close.  I struggle with the decision of daycare for several reasons;  she has come so far in the past six months with her speech, her interaction with others, her behavior, and her bathroom habits (yes, she is using the potty at 21 months. I guess chocolate as a motivator works for girls of all ages. lol).  She is still very trusting and innocent, I don't want her to lose those qualities.  I'm not going to lie, we coddle the shit out of her (shes our first, so back off…ha-ha), and I'm afraid she won't be attended to when she needs to be.  I mean I could go on for hours…..
So here we are, my wife and I, in a position that millions of other parents have found themselves in; relinquishing control of their child/children into the hands of those who are to watch and care for our most valuable treasures.  We as parents have come to compromise with ourselves regularly to protect our sanity, we know and have accepted the fact that no one will ever care for our children like we can and do.  We tell ourselves that we are doing this because we need to let them go, in order to let them grow.  It sounds nice but it's bullsh*t.  We let them go because we f*cking have to.  We have to hop back on that little spinning wheel and make that cheese. Believe me, I have done a lot of growing up in the last two years, maybe more than I had done in the previous 10.  Having a child has made me look at things in a much more critical manner.  It has allowed me cherish the time that I do have to spend with my daughter and my wife and enjoy all of the little things that we take for granted on a daily basis.
As my child gets older and her tiny little hands get bigger, her beautiful curls grow into long flowing locks of dirty blond hair, and her need for me as her daddy gets less and less,  I wonder if I will beat myself up over my decision to put her into daycare instead of trying harder to find a way for her to be at home with her mom.
The more I talk to others and get feedback about our forced choice to put her into daycare, I do find comfort in knowing that other parents have gone through similar situations  and have come through the other side no worse for wear.  I am realizing that it is more about me and my inability and insecurities in  dealing with the fact that I won't be the one who is caring for my baby.  I guess it is just a sign of the things to come in this life, where I need to get used to and prepare myself that my little girl is becoming more and more self-sufficient and not needing her daddy the way she once did.
I can only hope that my wife and I have given her the confidence she needs to make new friends, get up and dust herself off when she gets knocked down, and use the strength that I know she possesses to see herself through the times when she needs it the most.  My daughter is destined for greatness, who am I kidding shes going to take that daycare class over.
I just want to say thank you again to everyone who told me to keep writing.  With out your support I wouldn't have been able to realize the clarity that writing gives to me.  And to all you parents out there that fight the good fight, going to work to provide for your family and are forced into the daycare machine, I take my hat off to you and respect the sh*t out of you and the strength you show on a daily basis.